Posted
November 6, 2019 by David Latham
in Feature
The Sims 4 University Expansion Arrives Next Month
Tis the season to be jolly, Fa-la-la-la-let's go back to school with The Sims 4 University expansion, revealed by Electronic Arts today with an official gameplay trailer.
The Sims 4 University expansion will send your Sims to earn their tertiary education, or perhaps you'll get distracted along the way. There are two universities to choose from: the historical University of Britechester or modern Foxbury Institute, both offering a tailored education with plenty of other activities along the way.
Earlier this year, The Sims 4 launched an Island Living expansion, and you can read more about that in our coverage here.
Watch the official The Sims 4 Discover University Gameplay Trailer below:
Welcome, Students
There's so much for a new student to do! From choosing on- or off-campus housing to exploring their new alma mater via bicycle, your Sims are going to be pretty busy starting this exciting chapter in their lives. What else is on the syllabus? Just keep reading!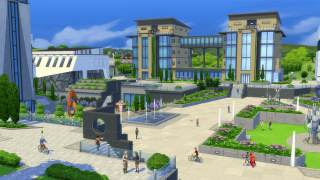 Settling In: Once your Sim is enrolled in good ole U of B or Foxbury Institute, it's time to choose a dorm (if they're staying on-campus), maybe spend some time in the student commons, or set up a study session in the library. Have your Sim hop on a bike to really explore their university and all it has to offer! And don't forget to make sure they show off their school pride with new university swag from a kiosk on campus!
Academics: When it comes right down to it, college is all about the classes and your Sims have a huge selection of them to choose from. Biology? Sure thing. Computer Science? You bet. Villainy? Weirdly enough, yeah! There are lectures to attend, term papers to work on, and presentations to give. And, of course, attending classes (or blowing them off) will affect their final grades. Remember, the more they learn, the better they'll be in their future careers, so no slacking if your Sims want to succeed.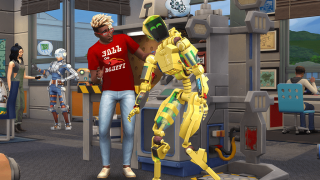 Extra-Curricular Activities: You know what they say about all work and no play, right? When your Sims aren't burning the midnight oil studying for a big exam, they might want to try out some juice pong, hang out with their roommates, or maybe join school organizations like robotics, debate, or art. The campus rumor mill also claims there's a mysterious secret society on the lookout for new members, but we wouldn't know anything about that (wink wink).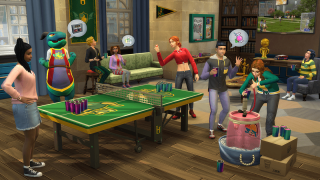 Self Expression: College is all about discovering who you're meant to be, and your Sims can really experiment with their personal style. It all starts with dorm room decor that reflects their personality. From posters to mini-fridges (for all-important midnight snacking), you can make their room perfect for studying or just hanging out. And when it comes to personal style, send them to class dressed to impress or sporting comfy sweats – it's all up to you!
The Sims 4 Discover University expansion launches on December 17, 2019 on all available platforms. For more information, head to the official The Sims 4 website.