Nintendo Store Update – 09/03/2012
This week's Nintendo Store Update is a pretty well-rounded one compared with recent weeks. Four titles are available, strewn across both Nintendo's home and handheld consoles. On the Wii, gamers can expect to have Megaman X and Samurai Shodown 4: Amakusa's Revenge. Meanwhile, in the 3DS eShop arena, you can look forward to downloading Fun Fun Minigolf TOUCH! and Kid Icarus: Of Myth and Monsters. 
Title: Megaman X
System: SNES (Virtual Console)
Price: 800 Wii Points
The first in the X  series of Megaman games, Megaman X  made its debut on the SNES in late 1993-early 1994. X tweaks the formula a bit by giving your character a few new abilities, such as scaling walls, building up armour, dashing and other unique abilities.
Title: Samurai Shodown 4: Amakusa's Revenge
System: Neo Geo (Virtual Console)
Price: 900 Wii Points
First release on the Neo Geo console in 1996, Samurai Shodown 4: Amakusa's Revenge is another entry into the fighting game series with a mix of old and new characters. It's regarded by many as an improvement on its predecessor in several ways, such as controls and the general fun factor.
Title: Fun Fun Minigolf TOUCH!
System: 3DS Download
Price: $7.50
One for the jovial sports nuts among you, Fun Fun Minigolf TOUCH! is a brand new 3DS title that allows you to take your Mii to the tiny putting green across fifty-four holes. It has a big emphasis on touch-screen controls and is rendered in 3D.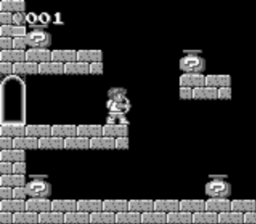 Title: Kid Icarus: Of Myths & Monsters
System: Game Boy (Virtual Console)
Price: $4.50
Nintendo seems to be readying itself for the release of Kid Icarus Uprising, with the original Kid Icarus and now its sequel Kid Icarus Uprising made available in the 3DS eShop. This second adventure of Pit sees you combat the evil demon Orcos with all of Pit's abilitles from the previous game present. Pit also has some new power-ups, such as the ability to beat hsi wings to slow his descent.